Stretches for the high-arched runners!
Further to Dr Gareth's blog on low and high arched runners, here are some exercises to focus on if you are a high arched runner! Stretches for low-arched runners can be found here!
Are you a high-arched runner? Leave a comment below to let us know how many high arched runners we have in the community!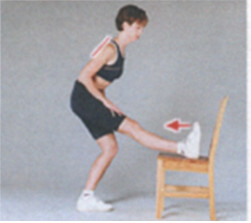 Hamstrings - Chair
Stand facing square to a chair, feet shoulder width apart.
Place heel of one foot up on chair, keeping knee straight and toes pulled back.

Slightly bend knee of supporting leg and direct buttocks backwards to feel a stretch in the back of the thigh.
Active Hip Flexor - Chair
Standing tall, raise one heel towards buttock (grasp above ankle joint)
Keep knees level, pelvic tilt and squeeze buttocks to extend hip back slightly to feel a stretch in the front of the hip.
Hold, relax buttocks and repeat.
Buttocks
Grab knee with same side hand and ankle with opposite hand.
Pull BOTH hands to chest.
You should feel pull in buttock
Adductors – Standing Supported
Standing, toes pointed forward, step out sideways into a side lunge position.
Keep the body upright by holding a chair.
Shift weight from side to side, holding each way, to feel a stretch in the inner thigh and groin area.
Gastrocs – Step
Standing tall with ball of foot on edge of stair or block.
Drop heel over edge to feel stretch in the calf.
Dr Gareth Calvert, Hilton Chiropractic (original posted 16-Aug-2014)