The Sunny Vitamin
With the Australian summer well on its way, there's plenty of sunlight to go around. We're told to lather with sunscreen, cover up, and avoid the sun at all costs in order to prevent skin cancer. But we actually need some sun exposure – it's important for getting enough vitamin D! So what's the deal with vitamin D?
Vitamin D is an essential nutrient that our skin creates when it is exposed to UV light from the sun.1 There are only small amounts of vitamin D in some foods, so our diet only gives us about 5-10% of what we need each day.1 Vitamin D is very important for ensuring we're able to absorb enough calcium from our food, among other things.2 It's estimated that about 31% of Australians don't get enough vitamin D1 (surprising, in such a sunny country!). People who are more likely to be deficient include people who are house-bound or under care (such as people with disabilities or the elderly), dark-skinned people (particularly those who are modestly dressed), those who regularly avoid the sun or work indoors, 1 babies breastfed by vitamin D deficient mothers, and people with certain medical conditions.3 Sunscreen stops UV rays from reaching the skin, but it doesn't seem to have a big impact on vitamin D levels when used as normal.4 We are also more likely to have lower levels in winter due to decreased exposure to the sun and wearing more clothes that cover the skin.1
Sufficient vitamin D intake is well known to support bone health and decrease the risk of falls and fractures in the elderly5,6 (which is a big concern). Research is also starting to show a link between vitamin D levels and a variety of other conditions including depression, cancer,8-11 diabetes,12 and dementia,13 among others.1 So it seems that vitamin D is important for more than just our bone health, and potentially impacts our health in many ways!
So how much sun do we need then? It's a balance of not too little and not too much, to get enough vitamin D but not increase your risk of skin cancer. SunSmart® provides the diagram below, which shows how much exposure is recommended in different parts of Australia.3 In the summer months, limit sun exposure to times when the UV index is below 3, typically early to mid morning or late afternoon.3 The minimum area of skin that should be exposed is the arms, or an equivalent amount.3 People who are dark-skinned are estimated to need 3-6 times longer in the sun for their skin to create the same amount of vitamin D.3 Alternatively, if you're unable to get enough sun exposure, you may use a vitamin D supplement.1
So the final message for summer is to still get a few minutes of sun on your skin each day, but 'slip slop slap' when the UV rays are strongest during the middle of the day!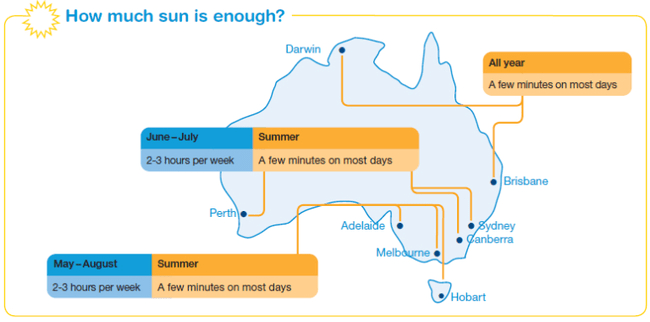 Dr Sasha Aspinall
Hilton Chiropractic
References
Nowson, C., et al. Vitamin D and health in adults in Australia and New Zealand: a position statement. Med J Aust, 2012. 196, 686-7.
Thacher, T. and B. Clarke. Vitamin D Insufficiency, in Mayo Clin Proc. 2011. p. 50-60.
SunSmart. How much sun is enough? 2014. Available from: http://www.sunsmart.com.au/vitamin-d/how-much-sun-is-enough.
Norval, M. and H. Wulf. Does chronic sunscreen use reduce vitamin D production to insufficient levels? Br J Dermatol, 2009. 161, 732-6.
Kalyani, R., et al. Vitamin D treatment for the prevention of falls in older adults: systematic review and meta-analysis. J Am Geriatr Soc, 2010. 58, 1299-310.
Murad, M., et al. The Effect of Vitamin D on Falls: A Systematic Review and Meta-Analysis. J Clin Endocrinol Metab, 2011. 96, 2997-3006.
Anglin, R., et al. Vitamin D deficiency and depression in adults: systematic review and meta-analysis. Br J Psychiatry, 2013. 202, 100-7.
Lappe, J., et al. Vitamin D and calcium supplementation reduces cancer risk: results of a randomized trial. Am J Clin Nutr, 2007. 85, 1586-91.
Garland, C., et al. The role of vitamin D in cancer prevention. Am J Pub Health, 2006. 96, 252-61.
Garland, C., et al. Vitamin D and prevention of breast cancer: Pooled analysis. J Steroid Biochem Mol Biol, 2007. 103, 708-11.
Ma, Y., et al. Association Between Vitamin D and Risk of Colorectal Cancer: A Systematic Review of Prospective Studies. J Clin Onc, 2011. 29, 3775-82..
Zipitis, C. and A. Akobeng. Vitamin D supplementation in early childhood and risk of type 1 diabetes: a systematic review and meta-analysis. Arch Dis Child, 2008. 93, 512-7.
Littlejohns, T., et al. Vitamin D and the risk of dementia and Alzheimer disease. Neurology, 2014. 83, 920-8.